Guys, Follow These Design Tips for the Ultimate Refined Home
Men might feel scared away from home decoration for its apparent complexity and need for a certain "touch". But rest assured knowing a comfortable and stylish room isn't far away and doesn't take creative genius and an art history degree to get it to happen- most of it involves trusting your gut. 
When in doubt, go classic. A home should feel refined and collected, not decorated. You're not living in a prop home or a movie set; and that goes for men and women alike. Live in a house you feel comfortable in and is a reflection of yourself. Creating a home you're proud of won't happen overnight. It takes years of experiences and memories. Incorporating color becomes the easy part.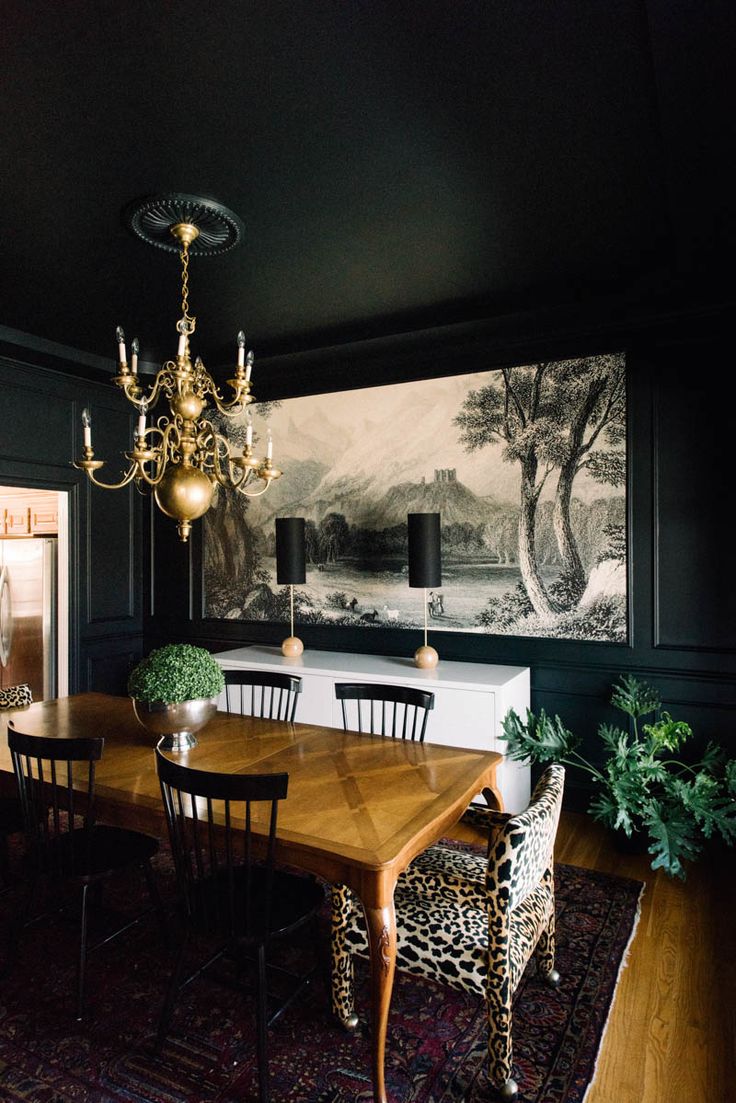 Don't be afraid of patterns and heirlooms, even in a darker space. This cheetah print chair mimics the colors of the painting on the wall. The greenery adds an element of living energy. The table and flooring are almost the same color. Interior design is about bringing together three things: texture, color, and life. 
Interior design is an interplay between soft textures and harder, structural metals and woods. Let your space run the gamut. Try not to let textures and colors mix. If brown is prevalent as wood, don't add too much brown fabric. If metal is the 'framing' material- the thing that adds definition and physical strength, avoid metallic-looking fabrics unless they're used in the same manner- to frame space. Think rugs, flooring, walls. 
Here are more fast tips for the bachelor looking to have a tidy home:
If you're hanging posters: Give it a second thought if its appropriate, then frame them. Compelling framing can be as simple as black or wood frame. Hang large posters with the bottom of the frame at waist-height.
No black leather sofa. Step away from leather for furniture and explore materials that are more comfortable and less likely to show their age, such as wool or tufted velvet. 
In the bedroom, get a duvet and a duvet cover. Flaneur has a huge range available, in every Pantone color. Do you have a favorite sports team? The color of your favorite car? Flaneur can make it happen. 
Skip Ikea for statement pieces. Save and invest in rare, vintage, or one-of-a-kind furniture that might appreciate in value. A perfectly chosen side-table can suddenly become the focal point of a room and bring up the overall look of an entires space, even if the sofa next to it comes from a big-box store. 
When in doubt, call an interior designer. These people will be sensitive to your budget and pull together a space that will wow. 
Use colors you like. No one wants to live somewhere where they don't feel welcome. Use fabrics and colors you actually like and feel good in, not just what's trending.